Domiciliary Care
We have been registered as a Domiciliary Care Agency since 2004. This registration enables us to provide care services our tenants in their own homes.
We are regularly inspected by the Care Quality Commission (CQC) and their latest inspection report can be viewed via the link on the right.
At our Extra Care schemes Lindsay Court and Westdene, we provide a Domiciliary Care Service to our tenants who require this. The care provided is determined by the individual needs of our tenants and their tailor made Care Plans are reviewed every six months or more frequently if required.
The care we can provide includes:-
assistance with personal care
domestic and laundry tasks
prompting medication
food preparation for breakfast and supper – a freshly cooked midday meal is provided by our in-house catering team.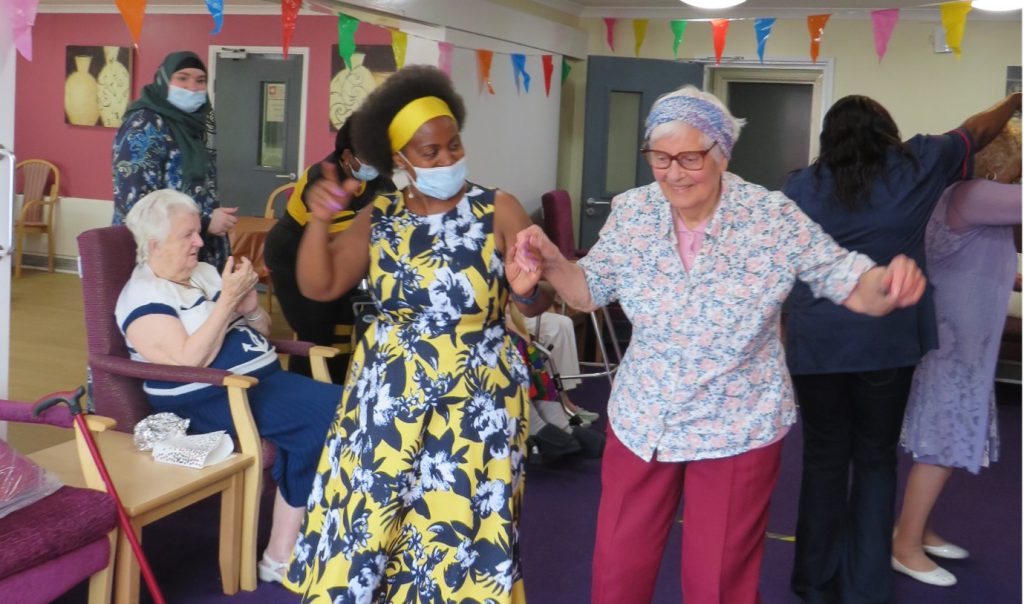 Our staff are respectful and treat all our tenants with dignity. They have all the required security checks such as the Disclosure & Barring Service Adult 1st Check prior to commencement of work.
Training is vital and we ensure that all mandatory subjects such as:-
Safeguarding Vulnerable Adults
Moving & Handling
First Aid
Food Hygiene
Fire Protection
Equality & Diversity
Infection Control
are completed by all of our Domiciliary Care Agency staff who are also trained to NVQ Level 2 in Care.
Staff are also given the opportunity to enhance their skills through attending additional training courses on Dementia, Parkinson's Disease, Deaf Awareness, HIV etc.
As a registered Domiciliary Care Agency the Association works within the Domiciliary Care National Minimum Care Standards – Regulations and employs Registered Care Managers who have been vetted by and registered with the Care Quality Commission to ensure these standards are adhered to.
If you require further information about the care services that we can provide for our tenants please contact Janice Hughes – Registered Care Manager jhughes@eldonhousing.org
Facilities Management
The Association's Facilities Management team comprises a Facilities Manager, Operations Manager, Maintenance Officers, Administrator, Catering/Cleaning Supervisor, Head Domestics, Domestics, Laundry Domestics, Head Cooks, Cooks and Kitchen Assistants.
They make up 60% of the Association's 100 plus frontline staff and are based in our own sheltered housing schemes and 3 Croydon Council Residential Care Homes through their Homes for the Future (New 4 Old) PFI Project. Our Domestic staff team are trained to clean to BICSc (British Institute of Cleaning Science) standards and hold the BICSc Licence to Practice accreditation. Our training methods are assessed annually by BICSc to ensure our standards are maintained.
They are polite, respectful and pride themselves on being well trained with an excellent working knowledge of our buildings and those we manage.
Their work includes:
Help Desk management including liaison with tenants, staff, contractors, service users and stakeholders
All aspects of building and grounds maintenance
Caretaking Services
Provision of freshly cooked midday meals at 4 Extra Care Schemes
Provision of 3 freshly prepared/cooked meals a day at 3 Croydon Council Residential Care Homes
Laundry services
Cleaning of Communal areas and, where required, tenants/service users flats
Asset Management
Equipment testing such as fire alarms, emergency lights
Throughout 9 Sheltered/Extra Care housing schemes,  3 registered care homes and 3 general family/supported housing schemes the equipment the Facilities Management Team are responsible for maintaining, either within the team or through specialist contractors, includes:-
Hydraulic Lifts
Specialist Assisted Baths
Hot & Cold Water systems including Legionella Testing
Air handling equipment
Commercial catering kitchens
Building Management Systems
Fire Alarms and Extinguishers
Commercial Washing Machines and Driers
Electric, Gas, Biomass Heating systems and Combined Heat & Power (CHP) systems
Warden Call & Door Entry systems
IT & Telephone systems
For further information on our Facilities Management Services please contact our Head of Operations – David Nixon on dnixon@eldonhousing.org
Management, Administration and Consultancy
Eldon Housing Association recognises the need to support other small Associations to enable them to continue to provide that much needed caring management style independently for their client group – older people – without feeling in line for merger.
Through offering management, administration and consultancy services, our partners have been able to protect and enhance their financial position and continue to function independently.