During its main development period in the 1990's the Association commenced partnership links with banks and funders which are still in place today.
With the increases in legislation and regulatory requirements, causing concern to the governing bodies of some small Housing Association the business was expanded by offering management, administrative and consultancy services to similar specialist organisations.
Due to changes in funding arrangements the Association has in the last 5 years embarked upon development partnerships in order to continue its specialist housing provision.
With a Strategy to become a premier provider in Croydon, the Association established a strong partnership with Croydon Council which lead to its success with the Homes for the Future (New 4 Old) PFI Project.
PFI Partnerships
Caring 4 Croydon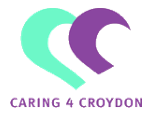 In 2005 the Association formed a Consortium with a local renowned construction company, Geoffrey Osborne Homes Ltd, and a specialist in PFI funding investment, UMEI Ltd, and bid for the Homes for the Future (New for Old) Project with Croydon Council.
The Consortium known as Caring 4 Croydon won the bid and constructed the 3 Residential/Nursing schemes (Addington Heights, Heavers Resource Centre and Langley Oaks) and 1 Extra Care housing scheme (Fellows Court) with day centre facilities and one-stop services over a 3-year programme.
We are contracted to provide the Facilities Management services to all the Residential/Nursing schemes and Day Centres.
The Extra Care Scheme, Fellows Court, was added to our own stock under a 125 year lease.
The Association remains interested in developing this type of partnership arrangement with others.
Funding Partnerships
Over the years, the Association has established good relationships with various Banks and charitable organisations and have a continuous partnership with Barclay's Bank, The Quaker Housing Trust and in recent years have included the Allied Irish Bank, Unity Trust Bank and Greater London Authority.